When it comes to extreme performance, the 2017 Ram Power Wagon near Dahlonega, GA should be an easy choice. Typical of Jeep vehicles, next year's Ram model is made to conquer the road and the hearts of those driving it.
However, the 2017 Ram Power Wagon near Dahlonega, GA doesn't just offer impressive power on the road; it also features a slew of improvements that make it the best option on the market. For those looking for a new truck, here are a few key features of the latest Ram Power that you should know.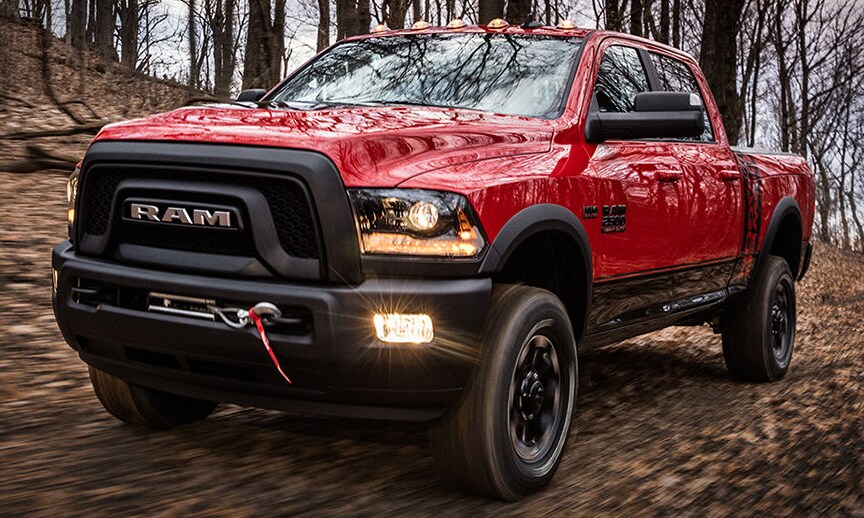 "Can't-Stop-Me" Power from the 2017 Ram Power Wagon in Dahlonega, GA
The hallmark of any Jeep truck is its indomitable "can-do" attitude, and the 2017 Ram Power Wagon around Dahlonega, GA is no different. The trucks impressive robustness is a product of an equally impressive engine. Next year's model is equipped with a 6.4-liter HEMI® V-8 that's capable of delivering up to 410 horsepower and 429 pound-feet of torque.
As such, it can tow as much as 10,030 pounds with aplomb, making it perfect for businesses that haul good or materials. Even better, the powertrain is covered by a generous five-year/6,000-mile warranty, so you can rest assured that your investment will be well protected.
"Conquer-Anything" Tires
The 2017 Ram Power Wagon exudes power from all angles, including its tires. This model will now feature 33-inch Goodyear All-Terrain Tires, which allows you to conquer most obstructions on an off-road trail, including muddy paths, boulders, and logs. Moreover, the extra-large tires command attention on highway as well, serving as another attention-grabbing detail on this truck.
"Can't-Take-Your-Eyes-Off-It" Design
The latest model of the Ram Power Wagon is sure to turn many heads in Chrysler, Dodge, Jeep, and Ram dealers serving Dahlonega, GA. That's because for the 2017 iteration, Jeep goes for a more aggressive look that is befitting of the power under this truck's hood. The 2017 model replaces the chrome trims from the 2016 model with black trim, which creates a bolder, more muscular look.
Black is truly the theme color of the 2017 model, as proven by the fact that the headlights can also be blacked-out. You can also add decals in black or silver, depending on which body color you choose.
Few trucks have the pedigree and reputation for performance that Jeep vehicles boast. If you're interested in the 2017 Ram Power Wagon, just drop by Dahlonega, GA Chrysler, Dodge, Jeep, and Ram dealerships and request a test drive. When you take this exceptional truck on the road, you'll experience first-hand the impressive features that have made it a segment leader.
Sources:
THE NEW 2017 RAM POWER WAGON ramtrucks.com
2017 Ram Power Wagon update adds menacing new look, autoblog.com
New 2017 Ram Power Wagon -- The Ultimate Off-road Truck Benefits from New Design, prnewswire.com